Do you wish to share a quiz to the entire class with a click of a button? Would you like to have the grades update automatically to your classroom account? Quizizz Google Classroom is for you!
How does it work?
Just begin a Live or Homework game as you normally would. On the page where you get the game code, you'll now see a Classroom Share button(Homework game) and 'Share via' button(Live game) as shown in images below.
For Homework game:
For Live game:
Click on the Google Classroom share button, you will be prompted to complete the following details:
Course: Select the class that you wish to assign the quiz to.
Assignment title: Enter assignment title.
Assignment description: Enter quiz description if any.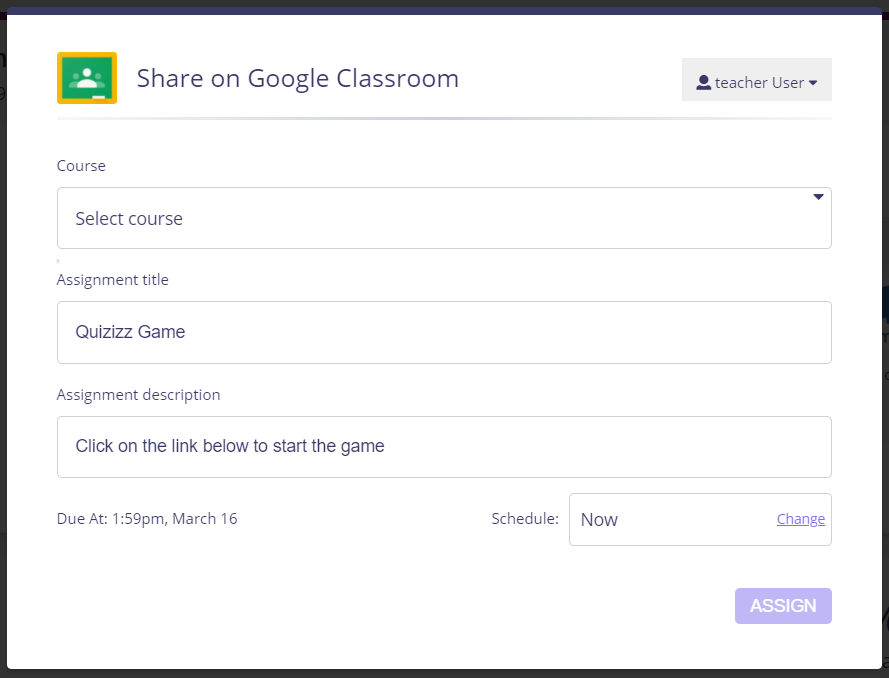 For a Homework game, you can also schedule the assignment. Click 'Change' to set the date that Google Classroom will send this out.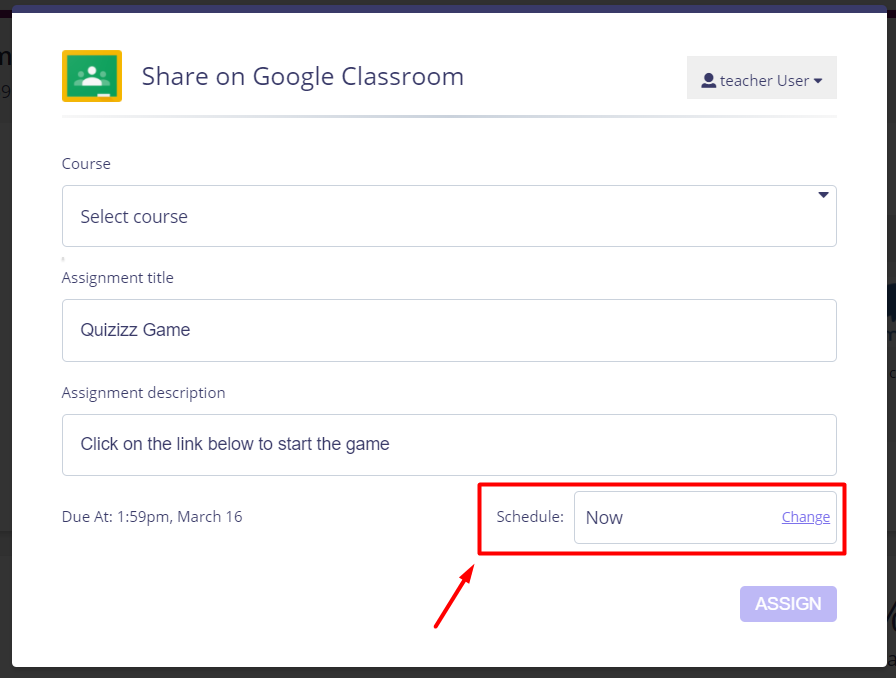 Once you have entered all the details, click 'ASSIGN' button to send a join link to the class.
Students will see a new post in their classroom account to join the game as shown in the image below.
When your students click the link, they will be prompted to login with their Google accounts. They can still choose any nickname for the leaderboard.
In the reports screen, you'll see their actual name from their Google account, as well as the name they entered (in brackets). Your students' data will also automatically be updated in your Google Classroom account.
Note: In case of homework games, it may take up to 24 hours after the deadline for data to update in your Google Classroom account. (This is because we don't clear the homework games until 24 hours after the deadline, just in case you need to extend the deadline.) In case you want the data to be sent to Google Classroom immediately, please use the "End Game" button on the report page. Live game results get updated immediately after the game ends.
How does it help?
There are a number of useful benefits of Google Classroom:
1. Better data: Now your reports will show the actual names of your students.
2. Safety: Since students need to login with their Google accounts, it will be easy to restrict participation, and ensure that inappropriate names can easily be traced to their rightful owners :)
3. Track assignments with Google: Now see assignment completion reports in Google Classroom as well.
4. More to come: We're soon going to add more ways to analyze your students' performance, and this is just the first step!