If you are a teacher or a student looking to create an account on Quizizz, you can do so by following these simple steps. If you want to create an account using your Google account, please click here.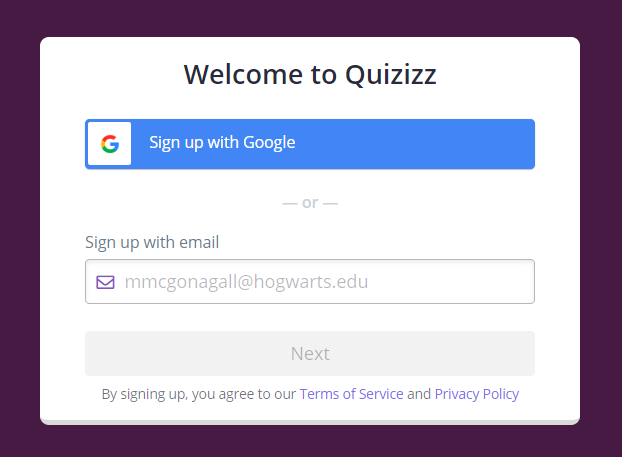 Step 1: Click on 'Sign Up with email' and select the type of account you want namely- Teacher, Student or Parent. In this example, I am selecting Teacher.
Step 2: Enter your email ID, the username you want and the desired password before you proceed to next.
Step 3: If you have picked the Teacher account option, you have to provide some information about your institution. When you enter an institution Zip Code, usually it will automatically suggest a list of schools you might belong to. However, if your school is not listed, you can always add an institution as shown below.
Step 4: This is the final step where once you have filled out the details, you are successfully logged into your account and can kick start your Quizizz experience. Click here to know how to get started and here to know how to conduct your first game on Quizizz.
Kindly let us know your experience with the new Sign up. Please get in touch with us if you face any issue with this on support@quizizz.com.