This article will show you how to share a quiz so that someone else can host their own games (or play on their own). This is different than sharing a join link to an existing game with your students.

You can share a quiz using various options given in the Quiz details page (the page you would be redirected to when you click on a quiz) of a quiz.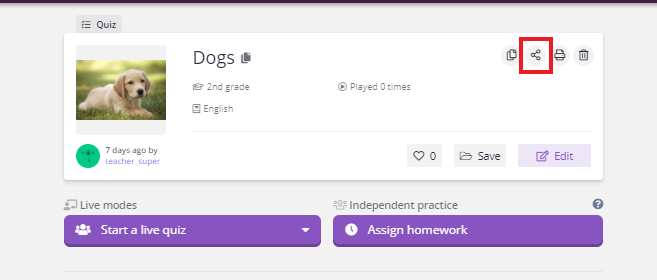 To share the quiz with your colleagues you can click on the 'Share' button'. (one with the arrow)
It will open a small window on the screen (shown below) where you will see a list of teachers you frequently contact. You can share this quiz with them by just clicking on the share button.
Don't see your buddy in the list? There is also an option to share this quiz via email. You can input the email address in the input box at the bottom of the form and click the send button. They will get an email with the link to this quiz.
You can also share this quiz on your favorite social media platform. We support Twitter, Google plus, and Facebook. You can also share a private quiz and the quiz will be available only to the person who has the link.
Note: You can also share a private quiz following the same process, This quiz will only be available only to the person who gets the email/link